Team work. Communication. Lateral thinking.
"Vanished" is the first escape room of the Arlberg.
It isn't scary. It is exciting. For those who seek something different.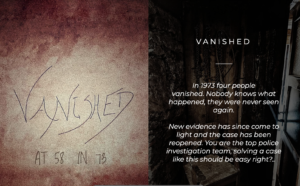 You are the best police investigators. You have 60 minutes to solve the mystery.
The game takes place in an old stable and involves many different puzzles. You must search, think and communicate if you are to solve the mystery within the time.
The building is authentic. It is very fresh. In winter, winter clothes are advised!
​There are no toilets located in the building. So make sure you visit a toilet before you come.
We love the environment so we encourage our players to come by bus. Bus stops Pettneu Garnen and Pettneu Kapelle are within a 2 minute walk from us. 
There are two parking spaces available. Please let us know if you drive.
The room is most fun if you have no knowledge of the puzzles and room specifics.
Please tell people about your experiences, but keep the details to yourself as we don't want to give away too much.
Phone: +43 (0) 6648655850
Email:  
Dorfstraße 64, 6580 St. Anton am Arlberg
Winter: Mon – Sun 17:00 – 23:00 
Summer: Mon – Sun 12:00 – 21:00
What a great experience! Highly recommend everyone to try it out! We managed to complete it in just under an hour and although it was challenging it was a lot... read more of fun and very rewarding! George and Bobbie are great hosts too!

James-McNaughton


6/12/2020

arriving at the location, you enter an old barn and you're not quite sure what to expect. the guys explain very well and you enter a very well decorated austrian... read more style barn. The puzzles are tough but very well thought out and as a group of 5, it was great fun trying to figure it all out. Having never done something like this before, we would all highly recommend it!!

Christianmilly


12/21/2019

Fantastic evening at Arlberg Escapes with a group of 12! They were happy to run a competition between the two groups, sharing a beer watching the second group trying to... read more beat our time. Would recommend to anyone in the Arlberg area. Perfect after a long day skiing. 10/10

TomParkerr


1/10/2020